My Diplomas From Web Tech U
My HTML 201 Tables Homework_Lesson 1
Lesson 2; Lesson 3; Lesson 4; Lesson 5; Lesson 5_2
My HTML 201 Forms Homework
Thank You Page
My CSS Homework
My CSS Homework 2
Please visit my special section at the link here
Inspirational/Religious
There are inspirational poems, a live
prayer room, Christian music, etc.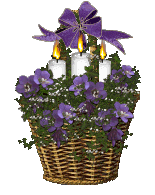 Send a Blooming Basket!
"Please click on the FLAME OF LIFE to
visit the site where you may secure your very own
FLAME OF LIFE to show your support of our troops"